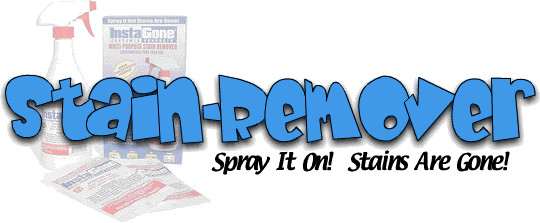 Stain Remover - InstaGone and Quick 10 Carpet Stain Remover
Spray It On! Stains Are Gone!
Highly Concentrated Formula - Just Add Water!
Quitamanchas Para Todo Uso

Removes:
Mold
Mildew
Water Stains
Nicotine
Soot
and Much More
Works On:
Acoustical Ceiling Tiles
Popcorn Ceilings
Grout
Masonry
Vinyl Cushions
Exterior Siding
Caulking
PVC Patio Furniture
Gutters
Plaster
Stone
Stucco
Shower Curtains
RVs
Boats and More
Works In Seconds!
No Rubbing
No Scrubbing
No Wiping
The best boat cleaner available!


Works perfect as a camper RV cleaner!
Works on hundreds of surfaces! Here is a partial list
Acoustical Ceiling Tiles
Appliances (Washing Machines and Dishwashers)
Bathroom Tile and Grout
Boats (Gel Coat Exteriors, Bait Wells, etc.)
Brick
Caulking
Exterior Siding (Wood, Aluminum and Vinyl)
Fireplaces (Stone and Brick)
Lawn Ornaments (Statues, Fountains, Birdbaths)
Leaders and Gutters
Masonry
Painted Sheetrock Walls and Ceilings
Patio Block
Plaster
Pool Liners
Popcorn Ceilings
PVC Fencing and Lattice
PVC Patio Furniture
RVs (Ceilings, Exteriors, and Vinyl Awnings)
Shower Curtains and Stalls
Sidewalks
Stone
Stucco
Vinyl and Convertible Auto Tops
Vinyl Seat Cushions
Vinyl-Clad Windows and Doors
White Canvas Sneakers
Wood Decks
Contains:
(1) 33.8 oz. bottle
(2) 23 gram packets
Sodium dodecylbenzen sulfonate
Sodium polyacrylate
Calcium hydroxide
Calcium hypochlorite
Sodium sulfate
Since 1996, millions of consumers have discovered that InstaGone
Multi-Purpose Carpet Stain Remover really works on the toughest stains!
"I recently purchased your product and I was amazed!"
- D. Bohr, Aurora, IL
"Your InstaGone Carpet Stain Remover worked like a miracle!"
- P. Howley, St. Albans, WV
"I've never seen a cleaning product this effective!"
- C. Nauroth, Bloomsburg, PA
"Congradulations, you have a great product that does everything you say - and more!"
- R. Tabak Jr, Port Orange, FL
"We had stains that we didnt know how to remove. InstaGone carpet stain remover really did the job!"
- M. Pruetti, Lilburn, GA
"InstaGone is a miracle product!"
- B. Holland, Mountain Home, AR
"InstaGone carpet stain remover is amazing, miraculous and I would be lost without it!"
- R. Runne, Barnegat, NJ
"The best product for mildew removal that Ive ever used!"
- W. Schmitt, Troy, MO
"This is a remarkable product!"
- P. Paterob, Northlake, IL
"My ceiling is once again white and sparkling."
- G. Goss, Petersburg, MI

InstaGone Stain Remover
Includes 33oz. bottle with 2 packets


Quick 10 Stain Remover
Includes 33oz. bottle with 2 packets
Quick 10 Stain Remover
Spray It On! Stains Are Gone!
Quitamanchas para alfombras, tapizados y ropa
Carpet, Upholstery, and Laundry Stain Remover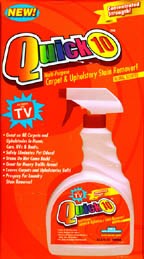 Super Concentrated Formula - Just Add Water!
Removes:
Pet Stains and Odors
Makeup and Lipstick
Coffee and Tea
Fruit Juice
Chocolate
Grease
Catsup
Wine
Soda
Blood
Safe To Use On:
Carpets
Clothing
Upholstery
Oriental Rugs
Vinyl and Leather
Drapes and Curtains
Contains:
(1) 33.8 oz. bottle
(2) 27 gram packets
Great for Carpet Cleaning Machines!
Professional Quality Results
Concentrated Strength
No Foam
No Residue
Economical
No Bulky Bottles
Deodorizes
Pleasant Fragrance


Use it for everything including carpet cleaner, floor cleaner, cat urine cleaner,
pet urine cleaner, dog urine cleaner, car upholstery cleaner, and more!
Mix one packet of Quick 10 per gallon of hot water for carpet cleaning machines!
An Amazing Pet Stain and Odor Remover!
Non-Toxic
Cleans Deeper
Higher Enzyme Action
Neutralizes Odors Faster
More Effective on Old Stains
Better for Removing Cat Hair Ball Stains
"I would like to thank you f or a pet stain remover that really works. My wife, my dog, and my carpets also thank you!"
- J. Rimoin, Homestead, FL

Millions of consumers and professionals have discovered that
Quick 10 really works on the toughest carpet, upholstery, and laundry stains!
"Quick 10 is an unbeatable spot remover and works great in our professional steam cleaning equipment. We use it on the job and recommend it with confidence to all of our customers."
- Shore Steam Carpet Cleaning, Belmar, NJ
"I just wanted to let you know how well your product, Quick 10 works. Between my kids, the dog, and ordinary wear and tear, our carpets looked horrible. I just gotyou product yesterday and today my carpets look wonderful!"
- C. Mitchell, Fox River Grove, IL
"Quik 10 is amazing for prepping used car interiors before re-sale and for cleaning up after technicians who track grease into the cars they are servicing. We keep a bottle in every service bay."
- Alternative Car Care, Neptune, NJ
"I saw an endorsement in the Chicago Tribune about a product called Quick 10 for cleaning spots on carpets. I sent for it and was dumbfounded at the immediate effectiveness. I have never seen anything like it! No odor, no fading, and no hard work!"
- S. Lewis, Chicago, IL
"We have six cats that seem to be having an ongoing hair ball competition. Weve tried everything, but nothing removes the stains and odors from our carpets and upholstery like Quick 10!"
- Danny and Angie, Jackson, NJ
"Im very impressed with Quick 10. Ive never found anything on the market that works nearly as well."
- J. Yuro, Toms River, NJ

MAKES A PERFECT DOG AND CAT URINE REMOVER!

InstaGone Stain Remover
Includes 33oz. bottle with 2 packets


Quick 10 Stain Remover
Includes 33oz. bottle with 2 packets

All major credit cards and PayPal accepted
Keep It Handy! Lots of Great Uses!



MADE IN THE USA
PO Box 197 - Morrow, Ohio 45152 - InstaGone & Quick 10 Carpet Stain Remover